Des Hopkins – Grand Marshal 2018 [A]
No one is more qualified to represent the Swinging 60′s than Musician, Drummer, Author and Entertainment Agent Des Hopkins.
Originally from Bray, Des as a Professional Musician all his life, toured England in 1960 and 1961 with one of the UK's top Bands. He played the famous Cavern Club in Liverpool several times with none other than 'The Beatles' as his support group.
Des returned to Ireland in 1963 where he played and toured Ireland, the UK and America as Drummer with many of the top professional Showbands of the day throughout the 60′s and early 70′s including The Ohio, The Victors, The Kings. Des even played drums with 'Johnny Cash'.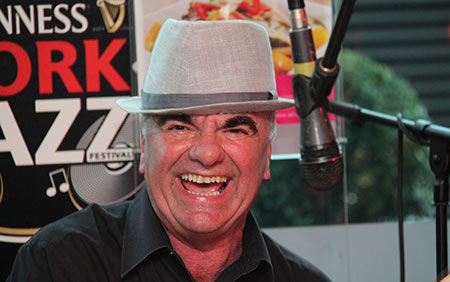 Married to Nuala in 1967 they have just celebrated their 50th Wedding Anniversary.
They moved to the Parish of Clane in 1967. They have three children – Paul, Eugenie and Graham who all live locally.
Graham is regarded as one of the greatest drummers worldwide, having played, recorded and toured the world several times with Rock Legends, Therapy, Snow Patrol, Glen Hansard, The Frames, the late Dolores O'Riordan and indeed many more.
Forming his own band 'Just Four' in 1973, they were extremely popular throughout the country and especially in the UK where they were regarded as one of the top Cabaret Bands of the time.
Later they became the famous 'The Hopkins Brothers Band 'with his late brother Billy. Des was also leader of the internationally renowned Guinness Jazz Band for many years, again touring all parts of Europe.
Still playing music and still regarded as the top Jazz Drummer in Ireland, Des runs his own music Booking Agency DH Entertainment providing music to the corporate sector. He provides The K Club and has done for many years with all their music requirements.
Des wrote his book of memoirs, published last year 'Showbands and all that Jazz'
A show biz legend in the 1960′s right up to the present, Des has seen it all. He has received many Music Awards throughout the years.
When asked by the Clane Festival Committee to be Grand Marshal for the 2018 St Patricks Parade Des was "overwhelmed to be honoured by his hometown CLANE"