The Parade
PARADE 2023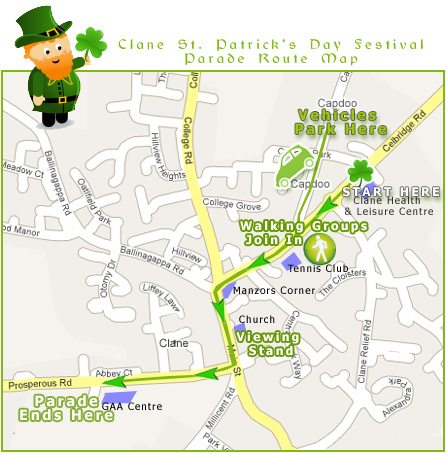 Friday, 17th March 2023 – Parade
Parade 3pm starting from the Leisure Centre on the Celbridge Road and finishing at the G.A.A. Grounds on the Prosperous Road.
2pm onwards music & entertainment provided on the Main Street.
Do come early.
Please leave the car at home if possible as there will be no parking on the street from 12.30pm onwards until the end of the Parade.
After the Parade, entertainment and refreshments will be provided.
Each year we have a theme.    Themes so far have been as follows:
2005
2006 – Music
2007 – CLANE -  OUR  GREEN  VILLAGE
2008 -  CLANE -  WORKING  TOGETHER
2009 – THE LAND OF MYTHS AND LEGENDS
2010 – THE  SOUND  OF  MUSIC
2011 – OUR  PAST,  OUR  PRESENT  AND  OUR  FUTURE
2012 – TÍR NA NÓG
2013 – FUN & LAUGHTER
2014 – A CELEBRATION
2015 – CHILDHOOD GAMES
2016 – HEALTH & FITNESS
2017 – MY FAVOURITE BOOK
2018 – THE SWINGING 60′S
2019 – BRINGING COMMUNITY TOGETHER
2020 – OUR CHILDREN, OUR FUTURE
2023 – MOVIE MAGIC