2006 Parade Photos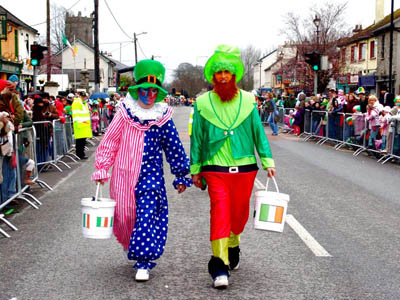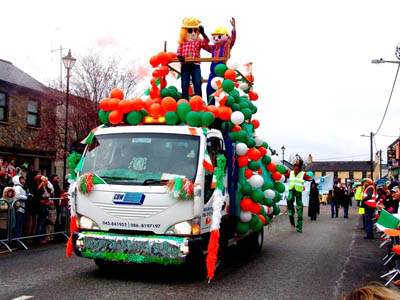 BOB THE BUILDER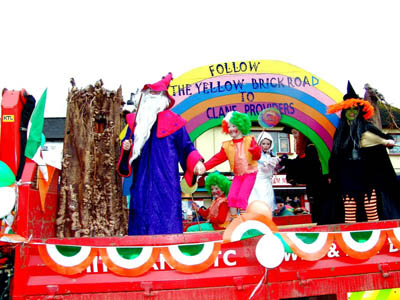 2006  PARADE
MC -  CIARAN  McCARTHY
THEME: MUSIC
JUDGES  FOR  2006
KEITH  SHANLEY  (KFM  RADIO)
DR.  ANDREW  RYNNE
SUZANNE  WALSHE (PURE  BEAUTY  AND  RTE  AFTERNOON  SHOW)
BERNA  LEE (A NATIVE  OF  CLANE)  RECITED  THE  FOLLOWING  POEM WHICH  SHE  WROTE  HERSELF ABOUT  CLANE.
THE  ROWAN  TREE
They call it now the Rowan Tree
A toy shop where our parlour used to be.
It's neighours are no longer those
Who shared the village and the life we knew.
Coming home from school in winter's gloom
To tea in a warm-fired kitchen,
Or lunchtimes, listening to "Mrs. Dale's Diary"
On the wireless on the press in the corner.
Sitting round the fire at night,
Women knitting and chatting;
The clicking of the needles ceased
When it was time for tea and sandwiches.
Children old enough to stay up late
Waited for the grownups to finish
Before diving for leftover treats.
Waking up some nights
To the sound of bogmen's turf carts,
Their wheels cluck-cluck, cluck-clucking
Through the village on their way to Dublin.
When they were gone,
There was the reassuring, slow tick-tock
Of the old clock in the kitchen below.
Nothing since has matched that for comfort and security.
Mam was there at the heart of it.
Eight of us lived in that small village house
For a few brief years, but when I was a child
It seemed it would last forever.
The family is scattered now,
We've gone our separate ways.
But last time I was in Clane
I bought a trinket in the Rowan Tree -
An excuse to be once more
In the place where once our parlour used to be.
BERNA  LEE