Events
Programme of Events 2017
Fáilte
Welcome to Clane St. Patrick's Day Festival, 2017
Theme: My Favourite Book
Our 2017 Grand Marshal Author Emma Jane Leeson
DOWNLOAD Programme of Events PDF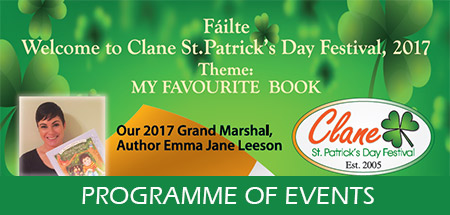 Friday, 10th March
Table Quiz – 9pm. Manzor's, The Village Inn
Table of 4: €40
To Book your table, please call 087 – 823 0728
Saturday 11th March
Join us at Florence & Milly, Prosperous Road (opp. Clane Hospital) from 12 – 4pm for a FREE Craft Day.
From Shamrock printing 3 – 4 year olds, Leprechaun Bookmarks for 5 – 11 year olds or making book worms
using air drying clay for adults & children of all ages.
Coffee Bar and Play Area facilities are available
To reserve a place, call Laura  on 045 838675 or 086 1719400
TechCreate, Clane Business Park – 3pm
FREE Laser cutting & 3D printing workshop
Everyone gets a laser cut bookmark and 3D printed Bugz clip
Adults and Children 6+
Booking Required, 10 places. Call 044 834224
Sunday 12th March
'A Little Bit of Clane' 12-6pm, at the Westgrove Hotel
A showcase of local produce, local activities, and "All Things Clane"
To book your stand please call 086-061 9086
The Moon and Sixpence Puppet Theatre Co. present 'Red Riding Hood'
Shows at 2.30pm and 4.00pm. Admission is Free.
Monday 13th March
Parade Information Evening
Clane GAA, Prosperous Road.
It is important that all float entrants attend this event.Refreshments served.
Tuesday 14th March
Book Club Evening at 7pm in the Westgrove Hotel Library.
Cheese and Wine Reception.
Some great authors will be in attendance.
All are welcome and admission is free.
Wednesday 15th March
Make a Monster Bookmark Workshop
Clane Library 3 – 4pm
Are you afraid of Monsters?
Listen to storyteller Sarah Murphy as she reads The Three Monsters Big Night Out by Laurence Bourguignon
Next have a go at making a cute and very useful paper monster bookmark using simple origami and craft techniques.
Age Range 7 – 10 year olds
This is a FREE Workshop
Places are limited and advance booking is essential
Contact Clane Libary – 045-892716 or email clanelib@kildarecoco.ie
TechCreate, Clane Business Park – 3pm
FREE Laser cutting & 3D printing workshop
Everyone gets a laser cut bookmark and 3D printed Bugz clip
Adults and Children 6+ Booking Required, 10 places. Call 044 834224
Friday 17th March
Parade, 3pm
Parade starts at Maxol Garage, Celbridge Road and finishes at Clane GAA, Prosperous Road.
Entertainment on the street from 2pm.
Road Closures on the day.
Come early & leave the car at home if you can!
Saturday 18th March
Parades Awards Night
The Westgrove Hotel at 7.30pm
All are welcome. Refreshments served.
For information please call 086-0619086 or 087-8230728
Email: clanefestival@kildare.ie
www.clanefestival.ie
www.facebook.com/clanefestival
www.twitter.com/clanefestival